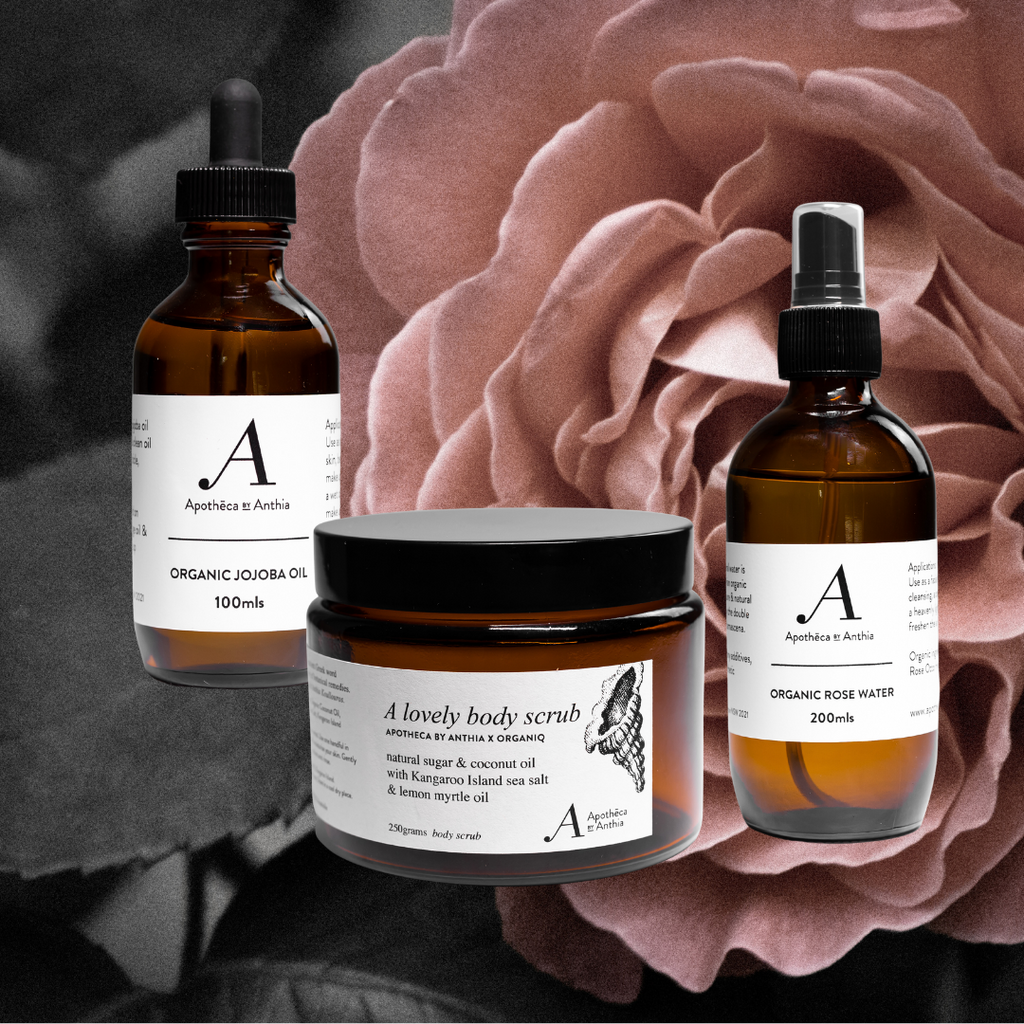 Beautiful Skin Kit by Apotheca
$79.00 $84.00
Save $5.00 when you buy a kit.
The Beautiful Skin Kit by Apotheca includes:
1. Organic Rose Floral Water 200mls by Apotheca
Our Organic Rose Floral Water is created using Bulgarian organic roses. It is a 100% pure & natural product produced by the double distillation of Rosa damascena. It does not contain any additives, preservatives or synthetic substances.
Applications: use as a facial toner after cleansing, a cooling skin spritzer, a heavenly light perfume or to freshen the air. 
Organic Ingredient: Bulgarian Rose Otto Hydrosol. 
2. Organic Jojoba Oil 100mls  by Apotheca
Experience the benefits of our 100% pure and Organic Jojoba Oil, a versatile product that can be used for a wide range of skincare needs. With its pH level closely resembling that of skin sebum, our jojoba oil is gentle and nourishing for all skin types.
Use it as a clean and simple facial and body oil, hair and beard oil, nail and cuticle oil, or for a relaxing body massage. It's even gentle enough to be used on babies as a bath or massage oil, and as an effective eye makeup remover.
To use as an eye makeup remover, simply add two drops to a wet cotton pad and gently wipe away eye makeup.
Our jojoba oil is made with only one organic ingredient: Jojoba oil (Simmondsia chinensis), so you can feel confident in using a pure and natural product on your skin. Incorporate our organic jojoba oil into your daily skincare routine and see the difference it can make.
3. A Lovely Body Scrub 20g By Apotheca
Created for Apothēca By Anthia by OrganiQ, Kangaroo Island.
Ingredients: Raw Australian Cane Sugar, Organic Coconut Oil, Himalayan Pink Salt, Kangaroo Island Sea Salt, Kangaroo Island Lemon Myrtle Oil, Pure Cinnamon Oil.
Directions: Test on a small patch on inner wrist. Use one handful in the bath or shower to cleanse, exfoliate & moisturise your skin. Gently rub over entire body in gentle circular motions and rinse.