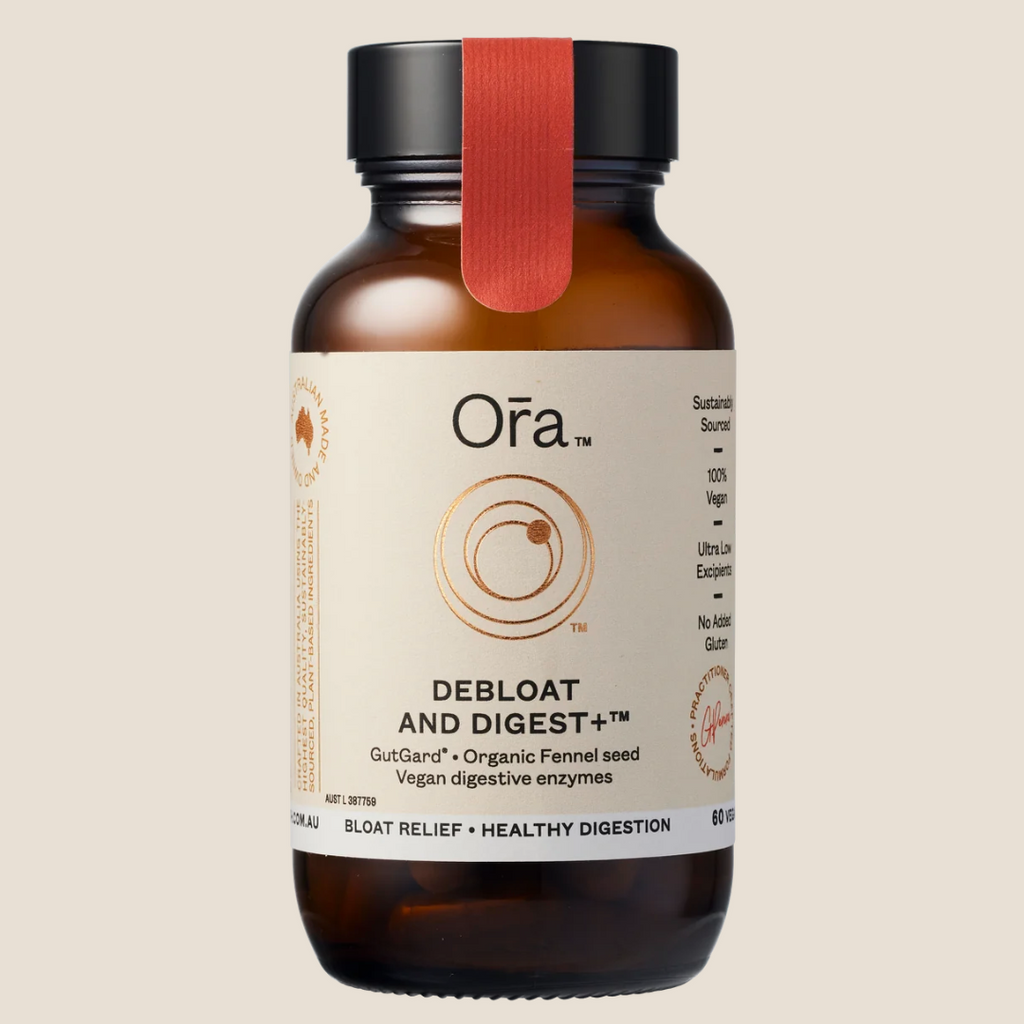 Ora Debloat and Digest + 60 Capsules
$49.95
Enjoy your favourite foods bloat free (and pain free).
**PLUS** receive a free downloadable copy of "Restoring Your Hormonal Balance" by Anthia Koullouros & Ora Health with every Ora Health product purchase. 
_______________
Description
A synergistic blend of the clinically-tested GutGard® shown in clinical studies to relieve abdominal pain, bloating and discomfort with organic fennel seed and vegan digestive enzymes to help reduce indigestion and distention and support healthy digestion.

_______________
Ingredients
A daily dose (two capsules) contains:
Glycyrrhiza glabra (GutGard® deglycyrrhized Liquorice) root ext. dry conc. 150mg
from dry root 4.13g

Foeniculum vulgare (Organic Fennel) seed ext. dry conc. 200mg
from dry seed 2g

Papain 16mg

Bromelain 25 mg

Amylase (derived from Aspergillus oryzae) 30 mg

Protease (derived from Aspergillus oryzae) 9 mg

Lipase (derived from Rhizopus oryzae) 2.5 mg

Cellulase (derived from Trichoderma reesei) 5 mg
No added yeast, soy, sugars, lactose, gluten, artificial colourings, dairy, or animal products.
_______________
Benefits
Relieve and reduce occurrence of abdominal bloating
Relieve symptoms of indigestion and dyspepsia
Relieve symptoms of heartburn 
Reduce wind and gas pain 
Assist with digestion of protein, carbohydrates, fat and plant fibres
Support healthy digestion 
_______________
Directions
Take one capsule twice daily at meal times, or as recommended by your healthcare practitioner. 

Always read the label. Follow the directions for use.
If symptoms persist, worsen, or change unexpectedly, talk to your healthcare professional.