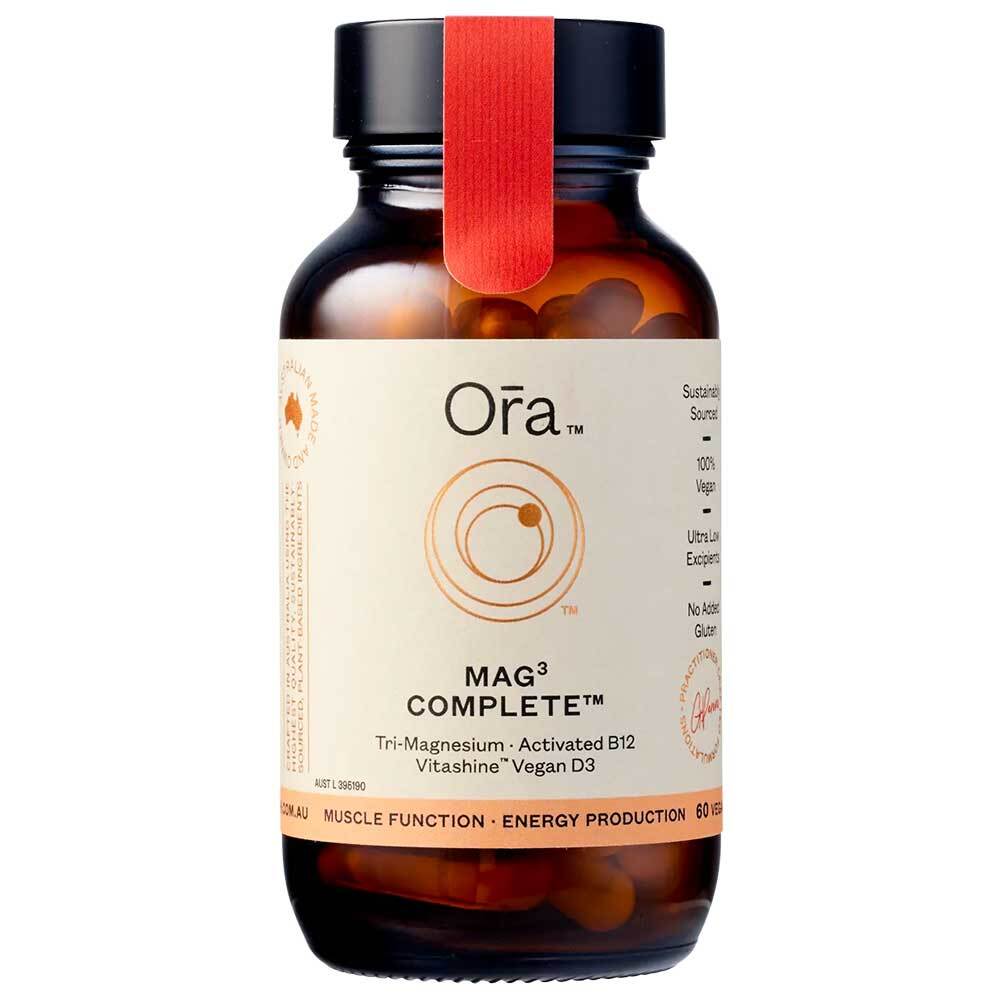 Ora Mag³ Complete™ 60 Capsules
$31.95
Your daily therapeutic dose of readily-absorbed magnesium, with added immune and energy support.
**PLUS** receive a free downloadable copy of "Restoring Your Hormonal Balance" by Anthia Koullouros & Ora Health with every Ora Health product purchase. 
_______________
Description
A unique blend of three readily-absorbed forms of magnesium - Magnesium amino acid chelate, Magnesium citrate anhydrous and Magnesium glycinate dihydrate - to support muscle, nervous system, bone and heart health. Combined with Vitashine™ vegan Vitamin D3 for immune support and activated Vitamin B12 to support energy production.
_______________
Ingredients
A daily dose (two capsules) contains:
Magnesium amino acid chelate (Bisglycinate)1536.4mg
equivalent magnesium 307.2mg

Magnesium citrate 200.8mg
equivalent magnesium 31mg
Magnesium glycinate dihydrate 102.6mg
equivalent magnesium 11.7mg
Colecalciferol (500 IU Vitashine™) 25mcg
Mecobalamin (co-methylcobalamin) (Activated Vitamin B12) 50mcg
No added yeast, soy, sugars, lactose, gluten, artificial colourings, dairy, or animal products.
Benefits
Support muscle function and relaxation
Relax the nervous system
Maintain immune system health 
Support energy production
Support healthy heart, bones and teeth
_______________
Directions
Take one capsule, twice daily, or as recommended by your healthcare practitioner.
Always read the label. Follow the directions for use.
If symptoms persist, worsen, or change unexpectedly, talk to your healthcare professional.