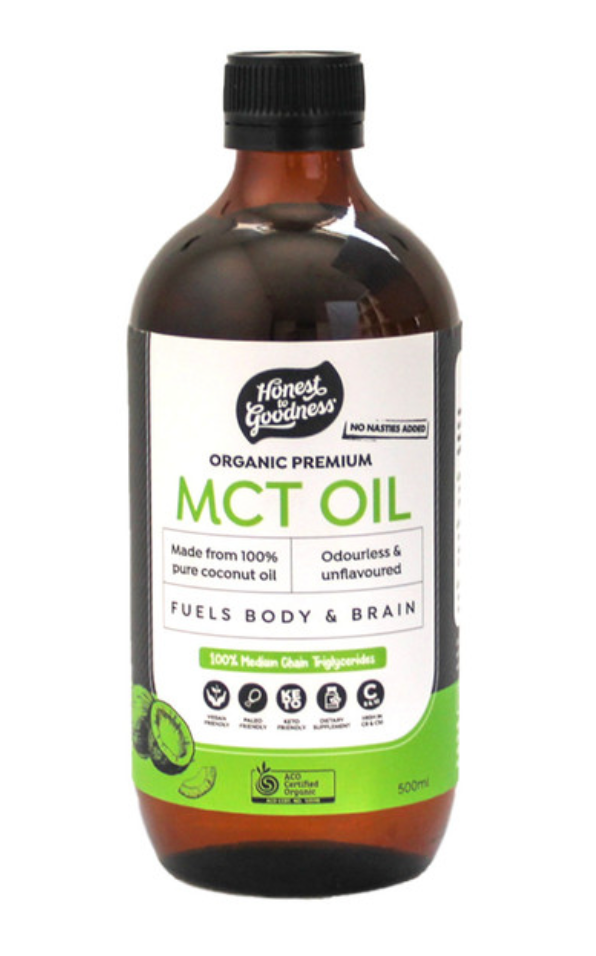 Organic Premium MCT Oil 500ml by Honest to Goodness
$25.95
Honest to Goodness Organic Premium MCT Oil is a purified form of coconut oil that is rich in Medium Chain Triglycerides (MCT) 98% C6, C8 & C10. These are a type of dietary fat most commonly found in coconuts.
MCT Oil is odourless and unflavoured, making it a suitable dietary supplement to boost food, from smoothies to salad dressings
Caproic Acid C6: Less than 2%
Caprylic Acid C8: 55-58%
Lauric Acid C12: Less than 2%
MCT is easily absorbed and converted in the liver to ketones which help fuel the brain and body for mental and physical performance.
Keto and Paleo diet friendly. No nasties or chemicals added. 
MCT Oil is completely flavourless and can be taken straight, added to hot drinks, smoothies, salad dressings, food and more.
It is NOT suitable for frying due to its low burning point.
Dose: It is intended to be used daily, starting with 1-2 teaspoons per day and after a week gradually increasing the dosage by 1-2 teaspoons. Maximum 2 tablespoons per day is advised.